Larson Lightning Fast at Michigan
Motor Racing Network



Kyle Larson scored his second consecutive win at Michigan International Speedway when he took the checkered flag in Sunday's FireKeepers Casino 400.

Larson held off the field in a restart with five laps to go and went on to score his second win of the 2017 Monster Energy NASCAR Cup Series season. He won last year's August race at Michigan and his victory on Sunday made it back-to-back victories at the two-mile track.

"What a great Father's Day present for myself and all the other fathers out there," Larson said in Victory Lane. "My dad is here today, too. So, I'm looking forward to celebrating with him. We've been so close to so many other wins. This is our second Cup win of the year, but we've had six second place finishes. All-in-all, it's a good season so far and we'll continue to keep building on what we've got."

Chase Elliott tried to mount a challenge for the win but had to settle for second, his third consecutive runner-up Michigan finish.

Joey Logano, Denny Hamlin and Jamie McMurray rounded out the top five.



Read more on MRN.com





We nearly had an all rookie first timer win weekend but Jay Smogolski had other plans. Matthew Steinfels and Thomas Lutz won their first career races in the Xfinity and Truck series on Saturday and Todd Oliver came close to getting his first win in the Cup series. Unfortunately for Todd one other member finished ahead of him by 10 points. Jay Smogolski has been waiting nearly two years to get his next Cup win and he finally broke the streak of 69 races since his last win in July 2015 at Daytona.

Fire Keepers Casino 400 Top 5 Finishers

1. Jay Smogolski
2. Todd Oliver
3. Kelly Wolfe
4. Nate Bishop
5. Jessy Turgeon

Visit the Cup series page here



Hamlin Edges Byron for Michigan Win





Motor Racing Network



BROOKLYN, Mich. - For the second week in a row, a last lap pass decided the finish for the NASCAR XFINITY Series as Denny Hamlin passed rookie William Byron coming to the checkered flag in Saturday's Irish Hills 250 at Michigan International Speedway.

It's the first NASCAR XFINITY Series victory of the season for Hamlin, the second of his career at Michigan and the 16th victory in 158 career starts.

Hamlin led three times for 34 laps in Saturday's race including the final lap after getting by Byron in the thrilling finish.

Byron took the lead from Hamlin on Lap 117 and was out front when the caution flew for a spin involving Matt Tifft on Lap 122. On the final restart, Byron got the quick jump but Hamlin and Elliott Sadler were in close pursuit coming to the white flag.

Hamlin reached the bumper of Byron by Turn 1 of the last lap before pulling side by side down the backstretch and then had position on Byron coming through Turns 3 and 4 to nose out in front before winning the drag race to the checkered flag by 0.012 seconds.



Read more on Motor Racing Network






In the NASCAR race, the rookie was beat by a veteran but in Lucky Dog Racing, it was the rookie celebrating in victory lane. In his 13th start in the series, Matthew Steinfels won his first career race and held back a few of the veterans to do so. He scored a total of 231 points to take the win at Michigan and became the 117th different winner in the Xfinity series and 161st in Lucky Dog Racing. He's also the third Xfinity rookie to win a race this year.

Irish Hills 250 Top 5 Finishers

1. Matthew Steinfels
2. Will Riney
3. Matt Minnich
4. Teeder Jenkins
5. Wayne Sebern

Visit the Xfinity series page here



Back-to-Back Wins for Nemechek







Motor Racing Network



NEWTON, Iowa — With six laps to go, John Hunter Nemechek made his bold, last-gasp move. Again. Nemechek, who charged to a Father's Day win for his dad, Joe, last week at Gateway Motorsports Park, reprised his stirring comeback role in Friday's pulse-pounding NASCAR Camping World Series M&M's 200 presented by Casey's General Store at Iowa Speedway.

"Every one of these guys who works on this team, this is awesome," said John Hunter Nemechek, who passed Johnny Sauter on the high-side with six circuits left.

The dramatic ending to a race that ran remarkably clean for most of the first two stages was set up by an incident involving ThorSport teammates Grant Enfinger and Matt Crafton with 15 laps to go.

Nemechek and all the other contenders — except for Sauter — used the caution to head to pit road. Nemechek's crew chief, Gere Kennon, outfitted the No. 8 NEMCO Motorsports Chevrolet with four fresh tires.



Read more on Motor Racing Network






Jose Rodriguez found victory lane for the first time in any of the three leagues this season with a win at Iowa Speedway. Jose had won at Iowa in the past two times in the Xfinity series in 2013 and 2014 but this is the first time that he's won there in the Xfinity series. It's the sixth career win for Jose in the Truck series and the twentieth overall in Lucky Dog Racing. Jose's win also puts him into the lead of the standings. He came into the weekend just 4 points behind but now he leads by 26 points over second place.

M&M's 200 Top 5 Finishers

1. Jose Rodriguez
2. Eldon Daughenbaugh
3. Todd Oliver
4. Lou Demian
5. Leon Baker

Visit the Truck series page here


Lucky Dog Racing finished in second place for 2 years in a row to P10 Select. For the 2017 season they are looking to finally get their 5th championship. This year they have another strong team. Randy Cook is the defending LROC champion and he will be leading the charge for the team again.

Joining Randy will be Jose Rodriguez who is no stranger to championships. Jose won the Cup series championship last season and now has titles in all three series. He'd love to add a LROC Championship as well. Lou Demian keeps his LROC streak appearance going to 10 straight years after he won the Xfinity series.

Greg Miller won the Truck series championship but is ineligible to run for Lucky Dog Racing since he is the team owner of Fantasy Sport Site. Nate Bishop represents Lucky Dog Racing for the first time after winning the Yahoo group championship. Ray Perrotta returns for the 2nd time after winning the Streak to the finish title. Jessy Turgeon also returns for a 2nd time after a long 7 year absence. Jessy won the Chaser Eraser last year.

Be sure to cheer on our drivers as Lucky Dog Racing's drive for five continues in 2017!

Visit the LROC series page here






2017 Yahoo Top 5 Standings
Updated after Pocono

| | | |
| --- | --- | --- |
| | Team | Total Pts |
| 1. | Stormdevil Racing | 4126 |
| 2. | Chuck L. Head | 4087 |
| 3. | Powerhouse | 4048 |
| 4. | wolferacing | 3981 |
| 5. | Bowtie Up Front | 3977 |














Lucky Dog Racing's Streak to the Finish is a Forum only competition. Here's how to play... Pick a top 10 driver each week to keep your streak going! Sound easy? Not so fast.... you can only choose a driver once per streak. You receive points depending on how your driver finishes and your current streak. If you score the most points out of all players, you can receive a special award on your driver page, a spot on the 2018 Lucky Dog Racing LROC Series team and a $25.00 gift certificate to NASCAR.com or Amazon.com

If you don't have a forum name, click on the picture to go to the forum, create a name and get ready to start your streak!




2017 Top 5 Streak To The Finish Driver Standings

Rank

Total Points

Current Cup Streak

Current Xfinity Streak

Current Truck Streak

J-Rod's Hot Rods
1.
1009
10
1
8
Sullivan Smashers
2.
753
1
13
2
President Lou
3.
609
4
4
6
Ampracing88
4.
604
1
0
2
MadDog Racing
5.
597
3
5
2



Congratulations To The Weekend Winners

Jay Smogolski

Michigan Cup Series Winner



Matthew Steinfels
Michigan Xfinity Series Winner



Thomas Lutz
Gateway Truck Series Winner



John Whiddon
Race #5 LROC Series Winner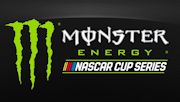 Next Monster Energy Cup Series Race
Toyota/SaveMart 350
June 25, 2017
Sonoma Raceway

TV:

Submit Picks Here


Next Xfinity Series Race
American Ethanol E15 250
June 24, 2017
Iowa Speedway

TV:

Submit Picks Here


Next Truck Series Race
Buckle Up In Your Truck 225
July 6, 2017
Kentucky Speedway

TV: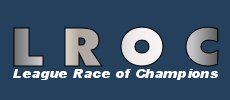 Next LROC Series Event
Race #6
June 23-25 2017
Sonoma/Iowa
Click here to play the Manufacturer Challenge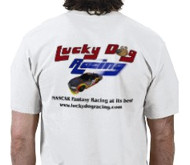 Visit Zazzle.com for the Lucky Dog Team T-Shirt!
Add your team name on the front!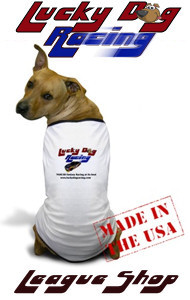 Vist the Lucky Dog League Store
for lots of other merchandise!