Active Series
5th Season
Lucky Star Motorsports
5th Season
Lucky Star Motorsports
Driver:

Eldon Daughenbaugh





Hometown:

New Lisbon, Wisconsin





Birthday:

April 20, 1963





Age:

54





Day Job:

Shuttle driver at a casino





First Xfinity Race:

Feb. 22 2014




First Truck Race:

Feb. 21 2014





E-mail:

[email protected]




FAVORITES





Movies:

Star Wars, Fast and Furious series, Star Trek & X-Men series



TV Shows:

Dukes of Hazard, Viper, and Falling Skies



Food:

Pizza and Burgers



Sports Team:

Green Bay Packers



Music:

AC/DC, Def Leppard



Hobbies:

Building model cars, driving demolition derby's



Race Track:

Bristol Motor Speedway



Kyle Busch
# 18
Sponsor: M&M's
Team: Joe Gibbs Racing
Rookie Year: 2005
Birthdate: 5/2/85
Height: 6'1"
Weight: 160
Hometown: Las Vegas, NV


Other drivers:
Matt Kenseth
Dale Earnhardt Jr.
DID YOU KNOW?...
Eldon says "I'm big NASCAR fan I collect the 1/64 scale cars have about 500 or more now. I drive demolition Derby's have some wins and trophy's from that, also have done some truck pulls, building a mower for demo this year new on this one see how it goes. I'm big movie watcher have 100's of them."
Xfinity Series Car Information



Truck Series Truck Information



CAREER WINS

Win #

Date

Track

Race Name

Points

XFINITY SERIES

1.

November 8, 2014

Phoenix Intl. Raceway

DAV 200

220

2.

July 18, 2015

New Hampshire Motor Speedway

Lakes Region 200

229

3.

September 5, 2015

New Hampshire Motor Speedway

VFW Sport Clips Help A Hero 200

224

4.

November 14, 2015

Phoenix Intl. Raceway

DAV 200

219

5.

March 4, 2017

Atlanta Motor Speedway

Rinnai 250

234

TRUCK SERIES

1.

May 15, 2015

Charlotte Motor Speedway

North Carolina Education Lottery 200

241

2.

September 4, 2016

Canadian Tire Motorsports Park

Chevrolet Silverado 250

154

3.

June 9, 2017

Texas Motor Speedway

WinStarOnlineGaming.com 400

244
CAREER XFINITY STATS
Year

Finish

Starts

Points

Behind

Wins

2nd Place

3rd Place

Top 5's

Top 10's

Prov.

Most Points
in a week

Least Points
in a week

2014

33rd

33

749

-375

1

0

0

3

4

0

232

140

2015

23rd

33

861

-237

3

0

2

4

7

1

235

53

2016

33rd

33

823

-3230

0

1

0

2

5

1

213

98

2017

28th

33

722

-3316

1

0

0

2

6

0

253

118

Total

29th

132

3155

N/A

5

1

2

11

22

0

253

53
2017 highlights
Won the Rianni 250 at Atlanta Motor Speedway on 3/4/17, his 5th career Xfinity win

Recorded 2 top 5's and 6 top 10's






2016 highlights



Did not win a race but finished 2nd place once

Recorded 2 top 5's and 5 top 10's





2015 highlights



Won the Lakes Region 200 at New Hampshire Motor Speedway on 7/18/15

Won the VFW Sport Clips Help A Hero 200 at New Hampshire Motor Speedway on 9/5/15

Won the DAV 200 at Phoenix Intl. Raceway on 11/14/15

Won a total of 3 races, tied for the most in the league

Finished 3rd place twice

Recorded 4 top 5's and 7 top 10's






2014 highlights



Won the DAV 200 at Phoenix Intl. Raceway on 11/8/14, his first career Nationwide series win

Recorded 3 top 5's and 4 top 10's

Picked 67 top 5 drivers, the most in the league


CAREER TRUCK STATS
Year

Finish

Starts

Points

Behind

Wins

2nd Place

3rd Place

Top 5's

Top 10's

Prov.

Most Points
in a week

Least Points
in a week

2014

28th

22

575

-273

0

0

0

1

3

0

224

156

2015

8th

23

781

-104

1

0

0

2

4

0

241

158

2016

18th

23

706

-3351

1

0

1

5

5

0

166

80

2017

12th

23

2146

-1908

1

2

0

5

7

0

244

149

Total

16th

91

4208

N/A

3

2

1

13

19

0

244

80
2017 highlights
Qualified for the Truck playoffs for the first time and finished in 12th place

Won the WinstaronlineGaming.com 400 at Texas Motor Speedway on 6/9/17

Finished 2nd place twice

Recorded 5 top 5's and 7 top 10's





2016 highlights



Won the Chevrolet Silverado 250 at Canadian Tire Motorsports Park on 9/4/16

Finished 3rd place once

Recorded 5 top 5's and 5 top 10's

Finished in the top 10 for segment truck scores





2015 highlights



Finished in the top 10 in the standings

Won the North Carolina Education Lottery 200, his first career Truck win

Recorded 3 top 5's and 7 top 10's

Picked 15 polesitters, tied for the most in the league

Finished 2nd place in truck segment driver scores





2014 highlights



Recorded 1 top 5 and 3 top 10's


Trophies & Awards
Truck Series Awards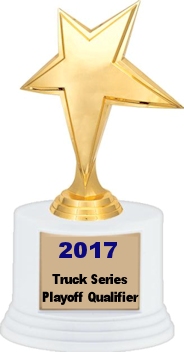 2017 Chase Driver
Finished 12th