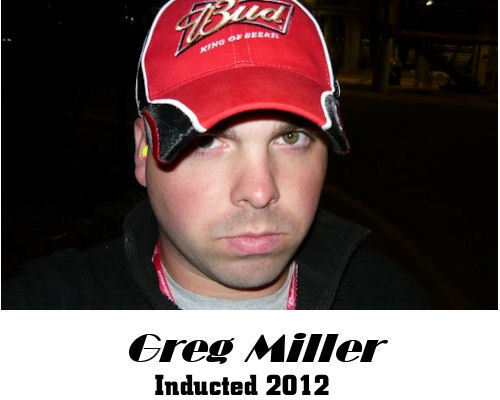 Greg Miller has the distinction of becoming the second member of the inaugural class to be inducted into the Hall of Fame. Greg's big achievement which has yet to be reached again was the main basis for his vote in. Greg is the first and so far only member to not just win two Cup series championships, but do so in consecutive seasons. He also won the first one in his rookie season too. He has also had some other success but those two big years are what everyone thinks of.

Greg knows fantasy racing... he has run his own online racing league, The Cool Pool about as long as Lucky Dog Racing has been around. Greg came over to Lucky Dog Racing at the start of the 2005 season when the league really began to grow. Greg's career in Lucky Dog Racing has been interesting to say the least. He started with a 6th place finish in his very first race, the 2005 Daytona 500. He stayed in the top 10 the entire season, only dropping down to 11th for one week. He led the standings for six weeks, most importantly the final two weeks. After two top 5's at the end of the year, Greg won his first Cup title in his rookie season. One of the other accomplishments was leading the league in both average finish and standings points average.

Greg also finished a respectable 5th place in the first season of the Nationwide, then called Busch series. He earned his first victory in August 2005 at Michigan and then another in October at Memphis.

Greg did not win a Cup race that year, but he did record 6 top 5's and 15 top 10's. Greg would finally get a victory in his 2nd season which to date is his only win. He started the year in 14th place which would be the lowest for him that season. The 2006 season was the first year of the Chase format, Greg nearly missed out but narrowly made it in despite being 12th in the standings. Once in, he made magic happen with 4 top 5's and 2 more top 10's. He led the final six weeks and cruised to his 2nd straight championship. From that, Greg went into the history books with a record that still stands today. He also became the first member to receive a real trophy and it credited to his two championships.

During that 2006 season, Greg also won the Heatseeker trophy which was credited to the member who scored the most points on the Power Gauge. In the Nationwide series, Greg finished in 13th place with 6 top 5's and 9 top 10's.

Things looked bright for Greg but unfortunately life has a funny way of turning out sometimes. After some controversy near the end of the year which continued into the off-season, Greg and Lucky Dog Racing parted ways. The two time champion would not return to try for three for several seasons.

Finally in 2009 Greg and Lucky Dog Racing reconciled and he returned to run a full season in the Truck series. Unfortunately he didn't quite have the same magic that he found in the Cup series a few seasons ago, he finished in 26th place. He didn't win any races but had two 2nd and 3rd place finishes. Near the end of the 2009 season, Greg was also called up into the Nationwide series for 11 races. There he did find some more success by winning 2 races at Montreal and Phoenix.

In 2010 Greg would run a full Nationwide series schedule. He did managed to finish 10th place in the Nationwide series with one more victory at Darlington. Greg opted not to start the season in the Truck series but rejoin it again later and ran 18 races. The 2010 season was not particularly a memorable one but it did provide an important stepping stone because that year Greg was finally called up into the Cup series again and ran his first race at Pocono on August 1st 2010. It was his first race back since November 19th 2006. Greg ran 16 Cup races that season and earned two 2nd and 3rd place finishes.

During the off-season, Greg was primed to finally run a full season of the Cup, Nationwide and Truck schedules. He teammed up with Kevin Sullivan, Ed Blackman and Harry Jeffery to form Coast To Coast Racing. It was team full of winners that were primed to become one of the elite multi-car teams. Greg was looking for that third championship which unfortunately he did not get close to. He did not make the Chase but in a somewhat unexpected turn of events, Greg contributed to Coast to Coast Racing winning the team championship. His teammate Harry Jeffery also won the Cup series championship.

Greg is still running in all series with visions of more championships in the future.

Greg was voted into the Hall of Fame after a total count of 8 votes. 3 of the votes came from committee members while 5 votes came from the league (10 actual votes).


Career Highlights
2005-2011 Seasons





Cup Series

Won the Championship in 05 & 06
First to win consecutive championships
Won team championship in 11
124 starts
1 victory
21 top 5's
39 top 10's
Made the Chase two times
Won the Heatseeker Award once




Nationwide Series

Finished in the top 5 once
Finished in the top 10 twice
146 starts
6 victories
27 top 5's
54 top 10's




Truck Series

68 starts
8 top 5's
14 top 10's