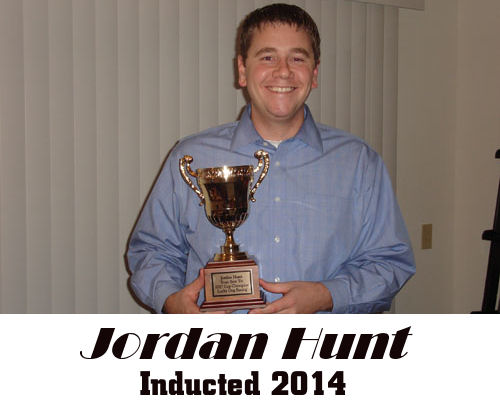 Jordan hunt is inducted as the 2nd member of the 2014 class and sixth overall into Lucky Dog Racing's Hall of Fame. Jordan has had a solid career in Lucky Dog Racing, he is the 2nd member to be inducted who has won titles in three of the four series that he's raced. He's also the first member to win both a cup title and rookie of the year in the same season. Jordan is also the first team owner who has won a championship to be inducted as well. His team, Northeast Ohio Motorsports has won the championship the last 2 years heading into his Hall of Fame induction year. Jordan is the first of his team to be inducted but more than likely all of his teammates will appear on the ballot sometime in the near future.

Jordan started his career at the start of the 2006 season in the Nationwide series, then known as the Busch series. In his first race at Daytona on Feb. 18, 2006, Jordan had a respectable 8th place run. He should have known good things would be in store for him that year after starting his career with a top 10. He didn't get to win a race that year but he ended with 5 top 5's and 12 top 10's. He finished as the runner-up champion to his future teammate, Bob Douce who burned him for both championship and rookie of the year title.

In late 2006, Jordan also had the opportunity to move up to the Cup series and ran the final three races of the year. His debut came at Texas on November 8, 2006 and had a rude rookie start by finishing 29th. He did end the year with a 6th place finish at Homestead though.

Jordan may have been beaten by Bob Douce in the Nationwide series, but he would get his revenge the following year in the Cup series. Bob had run too many races the year before so he was not eligible for the rookie of the year title, but it was his first full season. Bob nearly won the championship in 2007 but Jordan beat him by 26 points in the standings. Jordan became the first and so far only player to win both the championship and rookie of the year title the same year in the Cup series. In that year, Jordan also picked up his first 2 wins as well.

In the Nationwide series, Jordan finished in 7th place in 2007, a very nice follow-up and he even beat Bob Douce. That season Jordan also made the LROC team for the first time thanks to his runner-up finish in the Busch series the year before. He only finished in 9th place out of 12 drivers but picked up 2 wins. He had a worse time the following year when he finished in 15th. His big success would come some years later. Jordan also joined the Truck series in its inaugural season and finished in 3rd place. which included a race win. 2007 was a very good year after finishing in the top 10 in all series.

The next two seasons were strong for Jordan as well except he was shut out of victory lane in all series. Still, he had top 10 finishes in all three series except for the Truck series in 2009 when he finished 17th. In 2008 Jordan joined North Coast Racing which was headed up by Mark Mason. Besides Mark, Kevin Sullivan and Bob Douce were also teammates. the team finished in 5th place which was very good. However, Jordan and Bob decided to leave and formed Northeast Ohio Motorsports with Gary Wheat in 2009. The team had even better success by finishing in 2nd place behind Racing Traditions, Inc. who won their 2nd of 3 championships.

Jordan also recruited his former teammate Kevin Sullivan for one season but Kevin left after than to form his own team. 2010 was not kind to Jordan in the Cup series. His team finished in 11th place and Jordan had his worst finish of 27th place in the driver standings. He had much better success in the other two leagues though, 3rd in Nationwide and 2nd in the Truck series. He even found victory lane once in each as well.

In 2011, had a little btter season in Cup but still missed the Chase and finished 15th. His team, now with three cars rebounded to a 3rd place finish at least. He still found success in the Nationwide series though, finishing 3rd once again. It marked 6 straight years that he finished in the top 5. He also finished 5th in the Truck series and 7th in his 3rd stint in the LROC series. That year Lucky Dog Racing won the championship as well.

In 2012, Jordan added Robby Stone to their team lineup and things clicked because they won their first of two championships. Jordan also made the Chase again even though he finished as the lowest driver. At least he was finally able to go back to victory lane after three winless seasons. Jordan had a great season in the Truck series after winning the championship. He became just the 2nd member to win a title in either the Nationwide or Truck series after winning a Cup championship. In the Nationwide series, Jordan broke his top 5 streak but kept his top 10 streak alive after finishing 8th.

Unfortunately the wheels fell off a bit in 2013. Despite his team winning for the second year in a row, Jordan personally struggled in all three series. He had his career worse finish of 29th place in the Cup series, 12th in Nationwide and 17th in truck. Yet despite all of that, for some reason Jordan flourished in the LROC series. In a season that all Lucky Dog Racing driver were great, Jordan led them all by winning the championship. He even won the championship in the Yahoo group as well. Those two championships took away some of the sting from the three big leagues.

As Jordan looks forward, he is looking for big things in 2014 and beyond. His team is still looking strong and can easily match the record that Racing Traditions made with three straight championships. Jordan is now in elite company as the only member to win a Cup, Truck, LROC & Yahoo championship. If he can win the Nationwide championship, something that he's come close to before, he will be a driver that everyone else can look up to.

Jordan was inducted into the Hall of Fame after a total of 8 votes. 3 of the votes came from committee members while 5 came from the league (8 actual votes).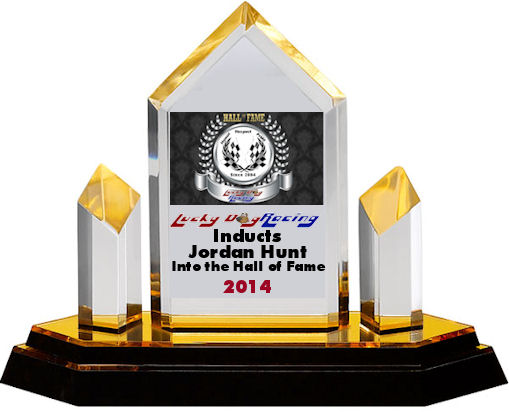 Career Highlights
2006-2013 Seasons





Cup Series

Won Championship in 07
Won rookie of the Year in 07
Won team championship in 12 & 13
Won team owner award in 12 & 13
Finished in the top 10 three times
255 starts
4 victories
32 top 5's
68 top 10's
Made the Chase four times




Nationwide Series

Finished 2nd place in 06
Finished 3rd place in 10 & 11
Finished in the top 10 seven total & consecutive times
275 starts
5 victories
39 top 5's
84 top 10's




Truck Series

Won Championship in 12
Finished 2nd place in 10
Finished in the top 10 five times
169 starts
4 victories
23 top 5's
43 top 10's




LROC Series

Won Championship in 13
Qualified for the series 4 times
4 victories
57 starts
18 top 5's
34 top 10's




Other Accomplishments

Won the Yahoo Racing Championship in 13