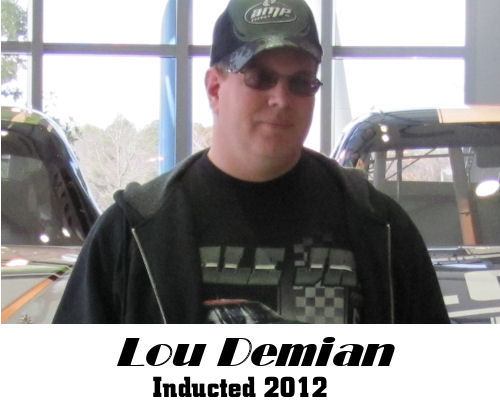 If NASCAR's first inductee into their Hall of Fame was Bill France Sr., it's only fitting that the first inductee into Lucky Dog Racing's Hall of Fame is its own creator, Lou Demian. If it wasn't for Lou's visions of how to run a fantasy league, Lucky Dog Racing simply would not exist.

Lou's interest in NASCAR began in the mid 90's when he would catch races from time to time and become a casual fan. He liked the way Dale Earnhardt raced which made him become a fan of his. He lost track for a couple of years but became hooked in 2001 after Earnhardt's death which shocked him. He would then root for Dale Earnhardt Jr. and has seen just about every race since then. He also attended a number of races as well.

After getting hooked on racing again Lou felt like it was time to get into fantasy racing as well. He had played online football since the late 90's in the Picks Football League which eventually became Total Sports. He liked the stats and records that the league provided along with the more personal comradery and competition. Unfortunately he could not really find a similar online NASCAR league so he decided to create one himself.

For close to a year, Lou provided a NASCAR fan site on his personal homepage so he decided to turn that into a league. On February 17th, 2004 Lou broke ground on Red Zone Racing and created a Cup series league which started in March and ran to the end of the season. It was a great success so he decided to expand on it by getting its own domain. Redzoneracing.com was not available so he took the name Lucky Dog Racing, named after the lucky dog rule which went into effect that season.

The following season saw the expansion of the Busch/Nationwide series, a few years later the Truck series would be added along with the inter-league LROC series. Nearly a decade later, Lucky Dog Racing now has a strong history behind it.

While Lou's credit of creating the league is worthy enough to be inducted into the Hall of Fame by itself, he has also had quite a bit of success in all three of its series. Currently he has more championships and victories between the Cup, Nationwide and Truck series than any other member. His most success has come in the Nationwide series where he has earned three championships. He won his first in the inaugural season in 2005. Four years later he won again in 2009 and then again in 2011. He became the first member to reach 10 wins and currently has 13. He currently holds several season and all-time records as well.

His second most successful series is the Truck series where he has two championships. He won his first in 2008 and then another two years later in 2010. After the 2011 season he sits third among all-time wins with 7. Like the Nationwide series, he also owns several season and all-time records.

After all of his success in the Nationwide and Truck series, he hasn't had as much success in the Cup series. He's still looking for that elusive Cup championship but he did get a runner-up finish in the first season. He also finished in the top 5 three other times. He currently has 5 wins and holds the record for most consecutive races remaining in the top 10. He's made the Chase 4 times and won the best of the rest one season as well.

In the LROC series, Lou has done a nice job representing Lucky Dog Racing. He currently holds the record for most season appearances and most wins. Lou has also won the Streak to the Finish one season and nearly another after finishing 2nd in 2011. In the satellite Yahoo leagues that LDR sponsors, Lou has had some success and even won a championship in the 2008 football league.

Nearly a decade of running Lucky Dog Racing and racing in it has provided some nice accomplishments and there are still plenty more to be earned.

Lou was voted into the Hall of Fame after a total of 9 votes. Three votes were submitted by the committee while six votes came from the league (20 actual votes).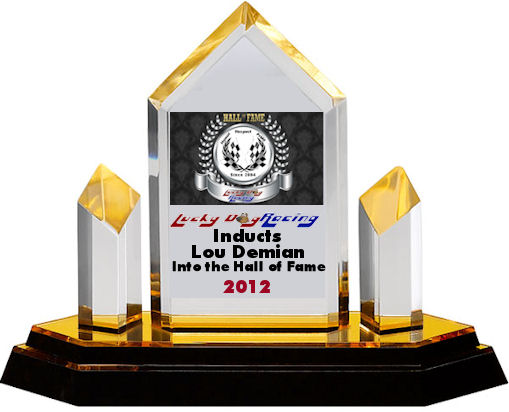 Career Highlights
2004-2011 Seasons





Cup Series

Finished 2nd place in 2004
Finished in the top 10 five times
283 starts
5 victories
37 top 5's
90 top 10's
Made the Chase four times
Won the Best of the Rest Award once




Nationwide Series

Won the Championship in 05, 09, 11
Finished 2nd place once
Finished 3rd place once
Finished in the top 10 six times
240 starts
13 victories
55 top 5's
98 top 10's




Truck Series

Won the Championship in 08, 10
Finished 3rd place once
Finished in the top 10 four times
125 starts
7 victories
23 top 5's
44 top 10's




LROC Series

Qualified for the series 5 times
Finished in the top 5 two times
68 starts
12 top 5's
38 top 10's
Participated on the winning team twice




Other Accomplishments

Won the Streak to the Finish in 07
Won the Yahoo Football championship in 08