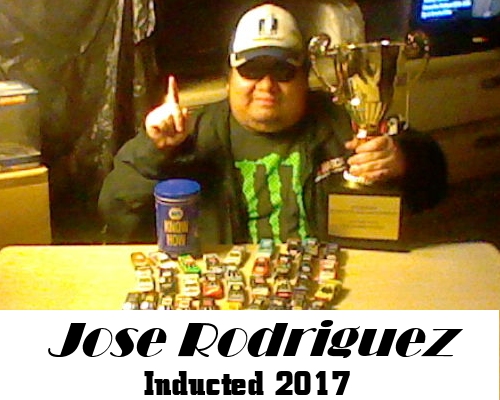 After amounting an impressive racing resume in such a short amount of time, Jose Rodriguez becomes the ninth member inducted into the Hall of Fame. After only six seasons in the league, he ties Dean Higley for the shortest amount of time that a member took to enter the Hall since its inception in 2012. However, Dean had been in the league 6 years prior to the Hall's existence so Jose breaks the record for the least amount of time in the league before entering the Hall.

Jose becomes the first member to be inducted into the Hall of Fame with a championship in each of the three major series. Lou Demian became the first player to win the three championships but he did not win the third until after he was inducted into the Hall. Jose won the Cup championship in 2016 which made him virtually a lock to become the next player inducted into the Hall.

Jose started his career in Lucky Dog Racing in typical fashion by joining the Truck series back in 2011. His first ever start came on February 18, 2011 in Daytona where he finished in 14th place. He was the second highest of five rookies in that race. Only one other rookie is still racing in the league currently.

It didn't take Jose long to get his first win, the very next race at Phoenix he went to victory lane and won his first Truck race. That season he won just one race but racked up 6 top 5's and 7 top 10's. He easily won rookie of the year but by a very close margin of just 3 points over 2nd and 3rd place, he won the Truck series championship. He became the first player to win both rookie of the year and championship in the same season in the Truck series. Only a few players had done that in all of Lucky Dog Racing. Bob Douce and Brian Blair did it in the Xfinity series while Jordan Hunt pulled it off in the Cup series.

Later in the 2011 season, Jose moved over to the Nationwide series when a spot opened up. His first Nationwide start was on August 20, 2011 at the Canadian road course Circuit Gilles Villeneuve. He didn't have a great start, finished only 25th place. Bristol was even worse but the race after that was Atlanta where he recorded his first top 10 after finishing in 6th place. In the race after that at Richmond, he did even better by winning his first Nationwide race in his fourth start. He followed that up at Chicagoland the following week where he won his second race. Just 5 races in and he already had back to back wins. In just 11 starts that season, Jose won 2 races, had 4 top 5's and 11 top 10's. His hot rookie season in the Trucks and Nationwide series surely meant great things would be in the future for Jose, and that turned out to be true. The following season he would race a full season in both series. Sometimes after a hot rookie year, a sophomore slump would occur the next season. It wasn't a slump, Jose had a solid season in both series but he may have been hoping for more. He only won one race between the two leagues, a Truck win at Michigan. He would finished 9th place in the Truck series and a very nice 5th place in the Nationwide series.

That season Jose also was promoted up to the Cup series in just his second year in the league. After a spot opened up, his standings in the Nationwide series pushed him in. Jose's first Cup start came on August 7, 2012 at Daytona. Restrictor plate tracks haven't been too kind to Jose in his time and that start showed it after he finished in 42nd place. Two races after that he earned his first top 10 finish at Indianapolis with a 7th place run. He finished in 2nd place at Watkins Glen, Bristol, Atlanta and then finally broke through with his first Cup win at Talladega on October 7, 2012. He more than made up for his last restrictor plate race performance.

In 2013 he would run full seasons in all three series for the first time. Jose would also join Racing Traditions, Inc., a team that already had great success. It looked like it would be a great formula for success but ultimately the powerhouse team would struggle and finish 13th in the team standings. Jose had another solid year in all three series. He would qualify for the Cup series Chase in his first full time season and would finish in 8th place. He won one race Cup race which was early in the season at Las Vegas.

After going winless in the Nationwide series the year before, Jose would find victory lane twice in 2013. Once at Iowa and once at Kansas. He had a solid finish of 10th place. He went winless in the Truck series but had his best overall finish from all three leagues after finishing in 4th place.

The following season, Jose wanted to do something different so he started his own Cup series team. Jose left Racing Traditions, Inc. after just one season and formed El Diablo and the Magic Men Motorsports with Greg Miller, Will Riney and Ron Blackman. That would be the new powerhouse team that would contend for a championship. The team ended up doing ok in its rookie season. They were up near the front of the standings for most of the year and even led the standings for one week. They finished in 7th place but wanted more.

Jose would have liked to have done better in the Cup series as well. He qualified for the Chase but finished in 14th place and went winless. He had a great year in the Truck series after finishing in 3rd place along with recording another win in the finale at Homestead.

Where Jose really shined that season was in the Nationwide series. He racked up 4 victories that season starting in the summer at New Hampshire. He won a race in July, August, September and October that year. Jose dominated that season by winning 4 races, 9 top 5's and 13 top 10's. He went on to win the 2014 Nationwide series championship by 37 points over Kelly Wolfe. In just four seasons in the league, Jose had already won two championships. He would also become the final Nationwide champion since the series sponsor would switch over to Xfinity the following season.

In 2015 Jose wouldn't win any driver's championships, but he did win an owner's championship. In their second season, Jose's team won the championship by a dominating 73 points over South Mountain Motorsports. Jose would also win the MVT award with the team as well. In the Cup series, Jose did well after qualifying for the Chase and making it all the way to the championship four round. It was the first year the league would use the new format. He finished in 3rd place and recorded two wins that season.

He finished 9th in the Xfinity series with one win. He also won a race in the Truck series which gave him a win in all three series but he only finished in 13th place.

In 2016, Jose qualified for the first Truck series Chase and finished in 5th place with one victory. He had his worst finish in the Xfinity series with a 21st place run. He saved all of his good finishes for the Cup series.

Jose started the season struggling, he fell as low as 46th place. In April he found his groove and put a string of 5 top 10 finishes together. He didn't win a race but worked himself all the way up to 3rd place by late June. He qualified for the Chase by points for the 4th consecutive year in a row.

Jose won the second race of the Chase to lock himself into the next round. He had two top 10 finishes in the next round and qualified for the round of 8. In that round he earned two top 5 finishes and locked himself into the championship four for the second year in a row. This time he had to battle against three drivers from Northeast Ohio Motorsports. The odds were that one of them would end up as champion but Jose beat the odds by finishing in 12th place while the other three drivers struggled at Homestead.

Jose won the 2016 Cup series championship and became the 2nd player in history to win the championship in all three series. That's surely hall of fame material and Jose was easily voted into the Hall by a total of 13 points. 10 points came from the league wide vote where he received a total of 19 votes. 3 points came from the committee members.

Jose has only raced in the league for six years so he may have many years ahead of him where he could amass more championships. Who knows what's in store for him? He's a Hall of Famer now though, so congrats to Jose!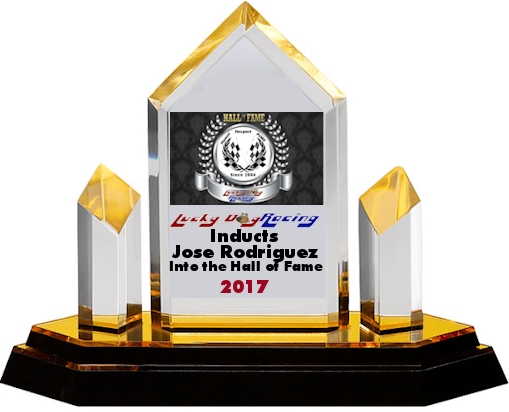 Career Highlights
2011-2016 Seasons





Cup Series

Won Championship in 2016
Won team championship in 2015
Won team owner award in 2015
Won MVT Award in 2015
Finished 3rd place in 2015
Finished in the top 10 three times
163 starts
5 victories
35 top 5's
56 top 10's
Made the Chase four times




Xfinity Series

Won Championship in 2014
Finished in the top 10 four times
176 starts
9 victories
28 top 5's
59 top 10's




Truck Series

Won Championship in 2011
Won Rookie of the year in 2011
Finished 3rd place in 2014
Finished in the top 10 five times
137 starts
5 victories
25 top 5's
41 top 10's
Made the Chase one time




LROC Series

Qualified for the series under LDR 2 times
2 victories
30 starts
9 top 5's
23 top 10's