Joanne Reilley finally wins her first race



Joanne Reilley has been in the LROC series for 3 seasons now but had never gone to victory lane... until now. Joanne finally wins her first career LROC race after scoring a total of 388 points in race #12. Joanne hasn't exactly been lighting it up this season for P10 Select but she carries the banner for the team this week and becomes the 3rd different winner as well. She's hoping to make it inside the top 10 before the end of the season, right now she is currently in 12th.

Ron Blackman leads the way for The Cool Pool as he finishes in 2nd place. It's the best finish of the season for Ron and his 4th top 5 as well. He is also able to gain 2 spots in the standings to jump from 7th to 5th place.

Randy Cook finishes in 3rd plae for Lucky Dog Racing which gave all three teams one member in the top 3. This is Randy's 3rd top 5 of the year and now moves him into the top 10 as he climbs to 10th place.

Despite having their highest driver in 3rd place, Lucky Dog Racing was able to win the team battle this week. They pick up their 6th win of the year which leads the two other leagues by twice the amount. The Cool Pool finished in 2nd place and are now 153 points behind. P10 Select are 404 points behind and are losing hope to challenge for the championship now.

Lucky Dog Racing took the rest of the top 5 with Harry Jeffery in 4th place for his 3rd top 5 of the year. Lou Demian finished in 5th for his 5th top 5 which ties him with Brian Blair and John Reilley Jr. for most top 5's.

The driver championship is turning into just a three man race. brian Blair took back the lead from Greg Miller by just 1 point. Lou Demian is 8 points behind. The next highest member is Kevin Sullivan, 26 points behind.

The LROC series is right back in action again next week at Dover and Las Vegas.




LROC SMACK BOARD


Brag about your team here!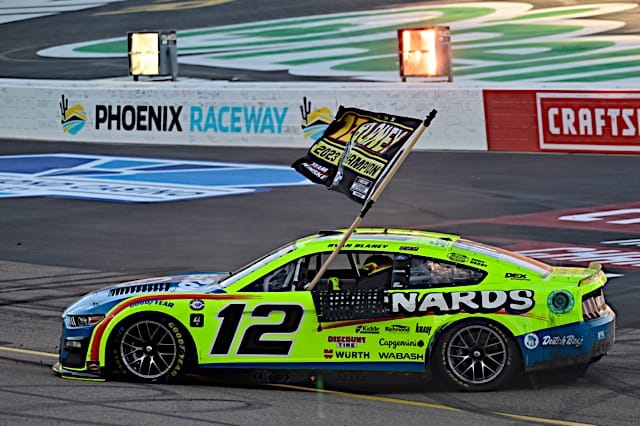 Brendan Gaughan was a surprise Nationwide winner but 2 members picked him.