Alpha Energy Solutions 250
Race Results
Click link for full results
Martinsville
Top 10 Finishers
| | | |
| --- | --- | --- |
| Pos | Driver | Pts |
| 1 | Marianne Anderson | 253 |
| 2 | Randy Cook | 240 |
| 3 | Brian Blair | 238 |
| 4 | Matt Minnich | 238 |
| 5 | Nate Bishop | 237 |
| 6 | David Baartman | 235 |
| 7 | Kelly Wolfe | 235 |
| 8 | Joseph Cardwell | 232 |
| 9 | James Dillon | 231 |
| 10 | Jessy Turgeon | 231 |
Next Truck Race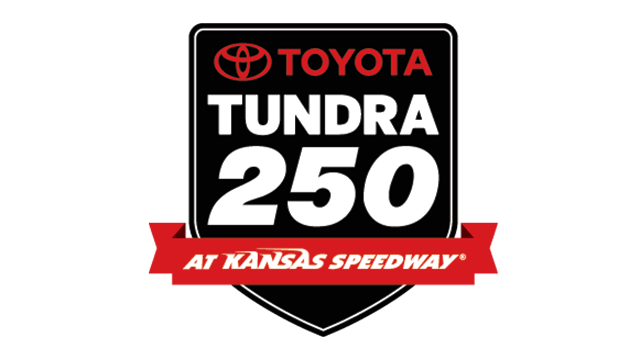 Kansas Speedway

May 12, 2017
Time: 8:30p.m. EST


Defending Champs

NASCAR: William Byron
LDR: David Baartman

Martinsville
Movers & Snoozers
James Dillon +17
Randy Cook +16
Jessy Turgeon +15

Matt Steinfels -14
Gary Wheat -13
Bradley Taylor -13

The Clock Strikes For Elliott In Martinsville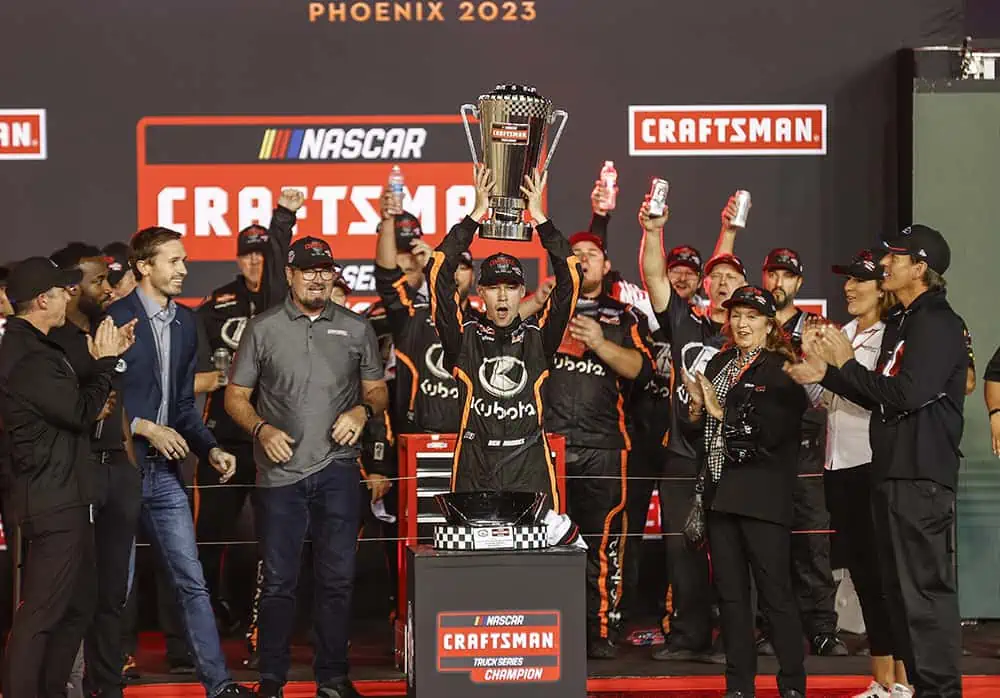 Chase Elliott held off Johnny Sauter to win his 2nd career Truck race
Marianne Anderson goes back to victory lane in Martinsville




The Truck series returned for the third race of the season at Martinsville. It is a track that Marianne Anderson has found success at before, she won her first race there in the 2013 season. Marianne found some of that luck again this year after going back to victory lane there again. Marianne scored a total of 253 points, the most points scored by anyone this year and just one point shy of tying the record. Her second Martinsville win is her fifth career win. It also gains her 10 spots in the standings to climb all the way up to 3rd place.

Randy Cook records his first top 5 and second top 10 in a row with a second place finish. Randy returned to the series at the midpoint last season after being out for quite a few years. This 2nd place finish is actually his highest finish since his only win way back in June of the 2007 season.

The Cup series teammates of South Mountain Motorsports took 3rd and 4th with the same picks. Brian Blair finished in 3rd and Matt Minnich 4th. It was the first top 5 for both of them this year. Brian moves up to 2nd place, 4 points behind Kelly Wolfe who took over the points lead this week. Matt Minnich moved up to 5th place.

Nate Bishop rounds out the top 5 with his first of the year and moves up 11 spots to 35th place.

It will now be another long break before the 4th race of the season. We'll next race on May 12th at Kansas Speedway.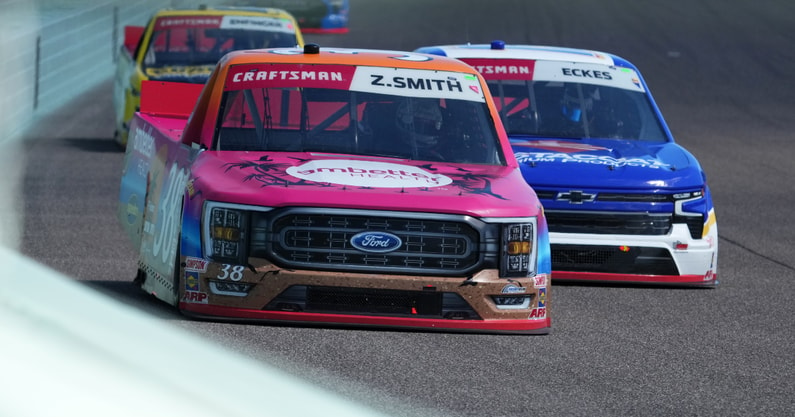 Cody Coughlin had a bit of a rough time at Martinsville.
Lucky Dog Racing: Truck Series
2017 Top 10 Drivers
Pos.

Driver Name

Team

Pts

Back

1

Kelly Wolfe

Wolferacing

131

Leader

2

Brian Blair

South Mountain Motorsports

127

-4

3

Marianne Anderson

GibbsFan

122

-9

4

Jay Smogolski

Stormdevil Racing

121

-10

5

Matt Minnich

Jimmy 'Smut' Means Fan Club

118

-13

6

Joseph Cardwell

Dega Racing

112

-19

7

Will Riney

Rusty Lugnuts Racing

106

-25

8

Jose Rodriguez

El Diablo & The Magic Men M.S.

103

-28

9

Jakub Smetana

Smetana Motorsports

102

-29

10

Kevin Sullivan

Coast To Coast Racing

101

-30

--Complete Standings--