Active Series
12th Season
Screaming Penguins
13th Season
J-Rod's Hot Rods
11th Season
J-Rod's Hot Rods
Driver:

Gary Wheat





Hometown:

Russell Springs, Kentucky





Birthday:

October 7, 1972





Age:

45





Day Job:

Kentucky State Police License Examiner





First Cup Race:

Feb. 10 2007




First Xfinity Race:

Feb. 19 2006




First Truck Race:

Feb. 16 2007





Cup Contract:

Through 2019




Xfinity Contract:

Through 2019




Truck Contract:

Through 2019




FAVORITES



Movies:

Facing The Giants, End Of The Spear, Finding Nemo, Cars





TV Shows:

Monk, Psych, Mike & Mike In The Morning





Food:

Meat





Sports Teams:

University of Kentucky Basketball, Chicago Cubs





Music:

Casting Crowns, Third Day, Chris Tomlin, Mercy Me





Hobbies:

Coaching Baseball





Race Track:

Martinsville





Kasey Kahne
# 95
Sponsor: WRL Gen. Contractors/ProCore
Team: Leavine Family Racing
Rookie Year: 2004
Birthdate: 4/10/80
Height: 5'8"
Weight: 150
Hometown: Enumclaw, WA



Other drivers:
Matt Kenseth
Denny Hamlin
DID YOU KNOW?...



Gary says "I keep a full schedule between doing driver's tests for the Kentucky State Police and working part time as a 911 dispatcher. I'm also active in my church where I enjoy singing and teaching youth.

I enjoy puzzles and Sudoku and fantasy baseball and basketball.

I've figured out the older I get the more boring I must get because I can't figure out anything else to put here!"


CUP SERIES CAR INFORMATION
Car #: 09

Make: Chevrolet SS

Primary Sponsor: World Vision

Associate Sponsors: Aflac, Operation Christmas Child


Past Paint Schemes

Xfinity Series Car Information



Truck Series Truck Information



CAREER WINS

Win #

Date

Track

Race Name

Points

CUP SERIES

1.

August 5, 2007

Pocono Raceway

Pennsylvania 500

190

2.

September 27, 2009

Dover Intl. Speedway

AAA 400

310

3.

September 4, 2011

Atlanta Motor Speedway

Advocare 500

197

4.

April 14, 2012

Texas Motor Speedway

Samsung Mobile 500

209

5.

May 12, 2012

Darlington Raceway

Bojangles Southern 500

191

6.

May 27, 2012

Charlotte Motor Speedway

Coca-Cola 600

201

7.

March 23, 2014

Auto Club Speedway

Auto Club 400

195

8.

August 23, 2014

Bristol Motor Speedway

Irwin Tools Night Race

175

9.

May 29, 2016

Charlotte Motor Speedway

Coca-Cola 600

184

XFINITY SERIES

1.

March 9, 2008

Atlanta Motor Speedway

Nicorette 300

368

2.

June 21, 2008

The Milwaukee Mile

Camping World RV Rental 250

265

3.

August 16, 2008

Michigan Intl. Speedway

Carfax 250

435

4.

October 10, 2008

Lowe's Motor Speedway

Dollar General 300

400

5.

February 14, 2009

Daytona Intl. Speedway

Camping World 300

378

6.

July 25, 2009

O'Reilly Raceway Park

Kroger 200

375

7.

June 25, 2010

Road America

Bucyrus 200

191

8.

August 19, 2016

Bristol Motor Speedway

Food City 300

202

TRUCK SERIES

1.

November 13, 2015

Phoenix Intl. Raceway

Lucas Oil 150

215

2.

February 27, 2016

Atlanta Motor Speedway

Great Clips 200

129
CAREER CUP STATS
Year

Finish

Starts

Points

Behind

Wins

2nd Place

3rd Place

Top 5's

Top 10's

Prov.

Most Points
in a week

Least Points
in a week

High Rank

Low Rank

2007

18th

36

3697

-2604

1

0

0

4

7

0

193

10

14

37

2008

9th

36

5961

-408

0

2

1

5

9

0

380

5

2

43

2009

6th

36

6183

-119

1

1

1

3

13

0

400

43

1

23

2010

26th

36

3509

-2675

0

0

1

3

5

1

350

15

11

33

2011

5th

36

2250

-84

1

1

0

5

11

1

197

76

1

28

2012

8th

36

2207

-36

3

0

0

9

14

0

209

94

1

43

2013

19th

36

810

-1511

0

1

3

4

9

0

201

65

12

32

2014

6th

36

3101

-51

2

0

0

2

5

0

195

86

4

42

2015

38th

36

695

-4333

0

1

0

1

3

2

211

65

17

43

2016

3rd

36

5005

-27

1

0

1

3

7

0

191

70

2

38

2017

16th

36

2147

-2877

0

0

0

4

9

1

190

64

1

16

Total

14th

396

35565

N/A

9

6

7

43

92

5

400

5

1

43





2017 highlights



Qualified for the Cup series playoffs and finished in 16th place

Recorded 4 top 5's and 9 top 10's

Picked 43 top 5 drivers, the most in the league

Qualified for the Advance Auto Parts Clash at Daytona and and All-Star race





2016 highlights



Qualified for the Chase and made the Championship Round to finish in 3rd place

Won the Coca-Cola 600 at Charlotte Motor Speedway on 5/29/16

Finished 3rd place once

Recorded 3 top 5's and 7 top 10's

Qualified for the Sprint Unlimited and All-Star race





2015 highlights



Did not win a race but finished 2nd place once

Recorded 1 top 5 and 3 top 10's

Qualified for the Sprint Unlimited and All-Star race





2014 highlights



Qualified for the Chase and finished in 6th place

Won the Auto Club 400 at Auto Club Speedway on 3/23/14

Won the Irwin Tools Night Race at Bristol Motor Speedway on 8/23/14

Recorded 2 top 5's and 5 top 10's

Qualified for the Sprint Unlimited and All-Star race





2013 highlights



Won the Team Championship with Northeast Ohio Motorsports

Did not win a race but finished 2nd place once and 3rd place three times

Recorded 4 top 5's and 9 top 10's

Recorded 3 consecutive top 10 finishes

Qualified for the Sprint Unlimited and All-Star race





2012 highlights



Qualified for the Chase for the 2nd consecutive year and finished in 8th place

Won the Team Championship with Northeast Ohio Motorsports

Won the 2012 MVT award

Led the standings for 11 weeks

Won the Samsung Mobile 500 at Texas Motor Speedway on 4/14/12

Won the Bojangles Southern 500 at Darlington Raceway on 5/12/12

Won the Coca-Cola 600 at Charlotte Motor Speedway on 5/27/12

Recorded 9 top 5's (most in the league) and 14 top 10's

Recorded 3 consecutive top 5 finishes and 3 consecutive top 10 finishes

Finished with the best average standings points with 25.8

Finished with the best average race points with 158.8

Finished with the best average finish of 18.4

Picked 92 lap leaders, tied for first in the league

Finished with 100% for lap leaders per race

Qualified for the Budweiser Shootout and All-Star race





2011 highlights



Qualified for the Chase and finished in 5th place

Led the standings for 3 weeks

Won the Advocare 500 at Atlanta Motor Speedway on 9/4/11

Finished 2nd place once

Recorded 5 top 5's and 11 top 10's

Recorded 3 consecutive top 10 finishes

Led the Power Gauge for 3 consecutive weeks

Finished in 3rd place on the Power Gauge

Finished with 100% for lap leaders per race





2010 highlights



Did not win a race but finished 3rd place once

Recorded 3 top 5's and 5 top 10's

Recorded 3 consecutive top 10 finishes

Qualified for the All-Star race





2009 highlights



Qualified for the Chase and finished in 6th place

Led the standings for 1 week

Won the AAA 400 on 7/27/09

Finished 2nd place and 3rd place once each

Recorded 3 top 5's and 13 top 10's

Picked 12 polesitters, tied for first in the league

Finished with 100% for lap leaders per race

Led the Power Gauge for 3 weeks

Finished in the top 5 on the Power Gauge





2008 highlights



Qualified for the Chase and finished in 9th place

Did not win a race but finished 2nd twice and 3rd once

Recorded 5 top 5's and 9 top 10's

Participated in the All-Star Challenge and finished 5th




2007 highlights



Won the Pennsylvania 500 at Pocono Raceway on 8/5/07

Recorded 4 top 5's and 7 top 10's


CAREER XFINITY STATS
Year

Finish

Starts

Points

Behind

Wins

2nd Place

3rd Place

Top 5's

Top 10's

Prov.

Most Points
in a week

Least Points
in a week

2006

21st

35

3352

-764

0

2

2

4

6

0

175

16

2007

3rd

35

3904

-463

0

0

1

6

13

1

203

-14

2008

4th

35

4034

-274

4

4

0

10

11

0

435

75

2009

18th

35

3333

-1030

2

0

0

3

7

0

378

88

2010

18th

35

3597

-620

0

1

0

3

8

0

410

160

2011

2nd

34

1023

-82

1

0

2

8

13

0

235

150

2012

7th

33

917

-167

0

2

0

6

10

0

234

78

2013

25th

33

805

-292

0

0

1

1

10

0

226

115

2014

25th

33

824

-300

0

0

0

2

3

0

232

158

2015

34th

33

797

-301

0

1

0

3

6

2

233

106

2016

30th

33

828

-3225

1

1

0

2

5

0

222

128

2017

43rd

33

614

-3424

0

0

1

2

3

1

236

106

Total

19th

407

24028

N/A

8

11

7

50

95

4

435

-14
2017 highlights


Did not win a race but finished 3rd place once

Recorded 2 top 5's and 3 top 10's




2016 highlights


Won the Food City 300 at Bristol Motor Speedway on 8/19/16

Finished 2nd place once

Recorded 2 top 5's and 5 top 10's




2015 highlights


Did not win a race but finished 2nd place once

Recorded 3 top 5's and 6 top 10's



2014 highlights


Recorded 2 top 5's and 3 top 10's



2013 highlights


Did not win a race but finished 3rd place once

Recorded 1 top 5 and 10 top 10's




2012 highlights


Finished in the top 10 of the standings

Did not win a race but finished 2nd place twice

Recorded 6 top 5's and 10 top 10's




2011 highlights


Finished as the runner-up champion in 2nd place

Won the Bucyrus 200 at Road America on 6/25/11

Finished 3rd place twice

Recorded 8 top 5's and 13 top 10's






2010 highlights


Did not win a race but finished 2nd place once

Recorded 3 top 5's and 8 top 10's




2009 highlights


Won the Camping World 300 on 2/14/09

Won the Kroger 200 on 7/25/09

Recorded 3 top 5's and 7 top 10's






2008 highlights


Finished 4th in the standings

Won the Nicorette 300 at Atlanta Motor Speedway on 3/8/08

Won the Camping World RV Rental 250 at The Milwaukee Mile on 6/21/08

Won the Carfax 250 at Michigan Intl. Speedway on 8/16/08

Won the Dolar General 300 at Lowe's Motor Speedway on 10/10/08

Won 4 races, the most in the league

Finished 2nd place four times, the most in the league

Recorded 10 top 5's, tied for first in the league and 11 top 10's

Recorded three consecutive top 10 finishes

Finished with the 2nd most race points and 2nd best race points average

Picked 55 top 5 drivers, the most in the league

Picked 16 polesitters, the most in the league




2007 highlights


Finished 3rd in the standings

Did not win a race but finished 3rd once

Recorded 6 top 5's and 13 top 10's, third most in the league

Recorded 3162 points, third most in the league






2006 highlights


Did not win a race but finished 2nd and 3rd twice each

Recorded 4 top 5's and 6 top 10's


CAREER TRUCK STATS
Year

Finish

Starts

Points

Behind

Wins

2nd Place

3rd Place

Top 5's

Top 10's

Prov.

Most Points
in a week

Least Points
in a week

2007

24th

25

2319

-424

0

1

0

2

4

0

235

46

2009

38th

20

1813

-1058

0

0

0

0

5

0

435

138

2010

14th

25

2479

-775

0

0

0

3

5

0

390

166

2011

48th

25

526

-357

0

0

0

1

3

1

219

50

2012

19th

22

683

-154

0

0

1

1

3

0

234

156

2013

10th

22

792

-72

0

0

0

1

5

0

234

155

2014

33rd

22

560

-288

0

1

1

3

3

0

234

169

2015

31st

23

639

-246

1

0

0

3

5

0

231

152

2016

34th

23

573

-3484

1

0

0

1

2

0

161

84

2017

39th

23

472

-3582

0

0

0

1

2

0

243

133

Total

29th

230

10856

N/A

2

2

2

16

37

1

435

46
2017 highlights
Recorded 1 top 5 and 2 top 10's




2016 highlights
Won the Great Clips 200 at Atlanta Motor Speedway on 2/27/16

Recorded 1 top 5 and 2 top 10's




2015 highlights
Won the Lucas Oil 150 at Phoenix Intl. Raceway, his first career Truck win

Recorded 3 top 5's and 5 top 10's




2014 highlights
Did not win a race but finished 2nd place and 3rd place once each

Recorded 3 top 5's and 3 top 10's




2013 highlights
Finished in the top 10 in the standings

Recorded 1 top 5 and 5 top 10's




2012 highlights
Did not win a race but finished 3rd place once

Recorded 1 top 5 and 3 top 10's




2011 highlights
Recorded 1 top 5 and 3 top 10's




2010 highlights
Recorded 3 top 5's and 5 top 10's




2009 highlights
Recorded 5 top 10's




2007 highlights
Did not win a race but finished 2nd place once

Recorded 2 top 5's and 4 top 10's

Picked 41 top 5 drivers, tied for first in the league


Trophies & Awards
Cup Series Awards
2017 Playoff Driver:
Finished 16th

2016 Chase Driver:
Finished 3rd

2014 Chase Driver:
Finished 6th
2012 Chase Driver:
Finished 8th

2011 Chase Driver:
Finished 5th

2009 Chase Driver:
Finished 6th

2008 Chase Driver:
Finished 9th



2012 MVT: Northeast Ohio Motorsports

2012: Best Race Pts Average

2012: Best Average Finish
2012: Best Standings Pts Average

2008 Chaser Eraser Champion
Xfinity Series Awards
| | |
| --- | --- |
| | |
| 2011: Nationwide Series 2nd place | 2007: Busch Series 3rd place |
Additional Awards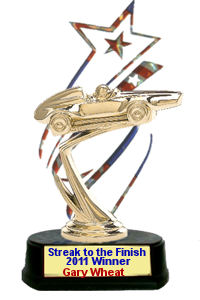 2011 Streak to the Finish Champ