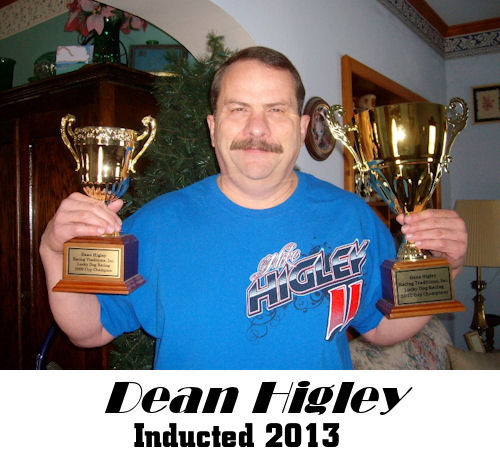 Dean Higley becomes the top member of the 2013 class to be inducted into the Hall of Fame, third overall. After Dean's achievements in Lucky Dog Racing, there was no question that he would become the next member inducted. Dean became the first member to win both multiple titles in the Cup series and one of the other two series as well. In addition to winning championships in the Nationwide series, he also has represented Lucky Dog Racing by winning two titles in the LROC series. In total, Dean now has 6 championships to his name in just 7 seasons.

Dean joined Lucky Dog Racing at the start of the 2006 season in the Nationwide series. In what would become a great career, his first finish was nothing to write home about. He finished 39th at Daytona but would rebound to a 6th place finish the following race. Later that season he would record his first league win at Michigan in August. Dean would finish his rookie season in a respectable 12th place.

The following season, Dean would run in all three seasons, making his debut in the Cup series and newly formed Truck series. He found success in all three as well. Dean would win his first championship in the Nationwide series after a dominating season. He finished by 380 points over 2nd place and led the league in wins, top 5's and top 10's.

Dean also had a great rookie Cup season after finishing in 4th place. He won his first race at New Hampshire and recorded 10 top 5's and 12 top 10's. He would have won rookie of the year but unfortunately faced off against Jordan Hunt who also started that same season and won the championship.

In the Truck series he finished in 19th place with 4 top 5's and 5 top 10's. After his rookie Truck season he would take the next three years off.

The following season was more of the same for Dean, he won his second Nationwide championship and became the first member to win back to back championships in that series. He won 2 more races and finished the season with 10 top 5's and 15 top 10's

He suffered a bit of a sophomore slump in the Cup series by finishing in 20th place but he did win another race in that time. Although he didn't have much to show for as a driver, he won a championship as a teammate. He joined Racing Traditions, Inc. that season when the multi-car team format made its debut. They raced to the first team championship and would repeat that the next two seasons.

His efforts the previous season allowed him to make the Lucky Dog team in the LROC series. What else did he do but win the championship there. He became the first Lucky Dog member to win a LROC championship.

In 2009 Dean raced to his first Cup championship. It was a great season for Dean despite not going to victory lane. He remained consistent enough to score 11 top 10's, avoid the bad finishes and get a little help from his teammates to win the title by just 8 points over 2nd place. Dean's team won the team championship as well so he became the first player to win both the Cup Championship and team championship in the same season. He had a decent year in the Nationwide series as well by finishing in 9th place with 2 more wins.

2010 saw Dean win another championship in the LROC series becoming the first player to win multiple championships in that series. He didn't go to victory lane in either the Cup or Nationwide series but had another solid top 10 finish in both.

2011 was the first season that he didn't win a championship in any series since his rookie year but he came close in his return to the Truck series by finishing in 2nd place. He also won his first Truck series race as well. He finished in the top 10 again in both the Cup and Nationwide series too.

2012 gave him his 2nd Cup series championship in what became the closest race in series history. He won by just one point over 2nd place with 5 members within 5 points of each other. He became just the 2nd member in history to win two championships in the Cup series.

Dean looks forward to many more seasons in Lucky Dog Racing and surely many more championships as well.

Dean was voted into the Hall of Fame after a total count of 10 votes. 4 of the votes came from committee members while 6 votes came from the league (15 actual votes).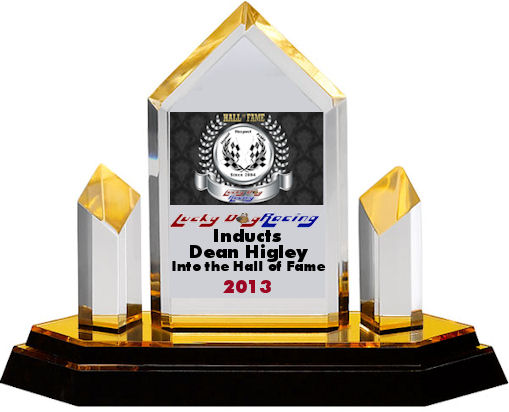 Career Highlights
2006-2012 Seasons





Cup Series

Won the Championship in 09 & 12
Won team championship in 08, 09 & 10
Finished in the top 10 five times
216 starts
3 victories
37 top 5's
66 top 10's
Made the Chase five times




Nationwide Series

Won the Championship in 07 & 08
First to win consecutive championships
Finished in the top 10 six times
242 starts
11 victories
48 top 5's
83 top 10's




Truck Series

Finished 2nd place once
72 starts
2 victories
12 top 5's
19 top 10's




LROC Series

Won the Championship in 08 & 10
Qualified for the series 4 times
64 starts 4 victories
27 top 5's
44 top 10's
Participated on the winning team twice