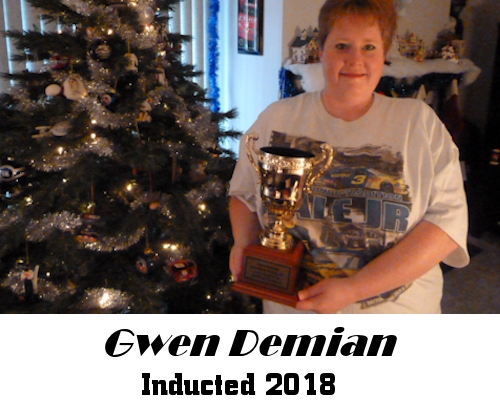 The first lady of Lucky Dog Racing finally becomes a Hall of Fame member. NASCAR has Betty Jane France while Lucky Dog Racing has Gwen Demian. Gwen has to deal with her husband taking up a lot of time to run the league, that sacrifice alone makes her hall of fame worthy. She may not have had as much success that she wishes she had but she was able to win a championship and rack up quite a few wins in the process. Gwen has only raced in the Cup series, she enters as only the second member to do so. She is also just the 2nd member besides her husband to race in every Cup race. When the season starts in 2018, she will hit 500 total.

Gwen started in the very first race way back in 2004 when the league was just getting started. The first official race was at Texas in April 2004 and she started her career off on the right foot with a nice 5th place finish. She followed it up the following with a 7th place run. Later that season she would pick up her very first win in the Chevy Rock & Roll 400 at Richmond Raceway. In her rookie season, Gwen would finish 12th with one win, 4 top 5's and 11 top 10's.

The following season she would pick up an early second win at Atlanta in March 2005. she would also record her first 2nd place finish as well. The second season had a lot more players than the 32 in the first year. She would finish in 27th place out of 51 players. Still, it wasn't a bad year considering she married the league president.

The third season was a good one for her until a few seasons after that when she won her championship. She had her 2nd best finish in 2006 after winning her third race of the her career and making the Chase. Gwen finished with the same numbers as her first season, 1 win, 4 top 5's and 11 top 10's and finishing in 7th place.

The following season wasn't so good though, she struggled mightily finishing in 38th place with just one top 5 and 3 top 10's. 2008 was a little bit better, she finished in 23rd place and had her first multi-win season with victories at Dover and Richmond.

2009 was an improvement as well, she ended with the same numbers as her two best seasons, one win, 4 top 5's and 11 top 10's but finished a little lower in 14th place.

the 2010 season was a season that Gwen will always remember. The first part of the season was nothing out of the ordinary, she managed to pick up a win along with 3 top 5's and 6 top 10's to enter the Chase at 10th place in the standings. She struggled in the first two races of the Chase and if the series was using rounds like it does now, she would have made a quick exit. After that she would pick up two top 5's, a top 15 and top 20. She worked herself all the way up to 2nd place halfway through the Chase. Unfortunately Talladega did her in and she tumbled down to 6th place. She stayed consistent though, at Texas she finished 10th to work herself up to 5th place. Phoenix got her up to 4th place which is where she would battle for the championship at Homestead.

It was a close battle where 10 drivers had a chance to win the championship. Gwen's teammate Larry Scroggins entered the race as the leader and had a 6 point lead over Stephen DiCaprio. Ryan Smith was 15 points behind in third place and Gwen Demian was back in 4th place. Gwen outraced all of them after finishing 6th in the race, the highest Chase driver. It allowed her to win by 26 points over Larry Scroggins and surprise everyone including herself with the championship.

Gwen was able to win her first cup championship over her husband so she got to celebrate that feat for a few seasons. Unfortunately for her that championship may have been somewhat of a curse because the years after that have been a bit of a struggle. In the following seven seasons her highest finish was 26th place. It's been some time since she was in her championship form but that one season was something that a lot of drivers will never get to experience. One of these upcoming seasons she may shock everyone again and challenge for a championship one more time.

It was a close battle for Gwen to enter the Hall of Fame. She received a total of 12 points. 9 points came from the league wide vote where she received a total of 14 votes. 3 points came from the committee members. She judged edged in by one point over Randy Cook.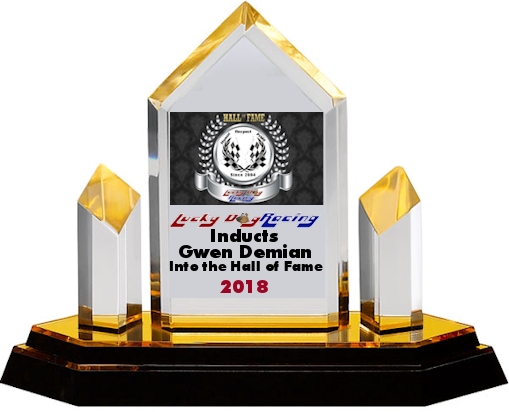 Career Highlights
2004-2017 Seasons





Cup Series

Won the Championship in 2010
Finished in the top 10 two times
499 starts
12 victories
41 top 5's
100 top 10's
Made the Playoffs two times
Member on winning LROC team once