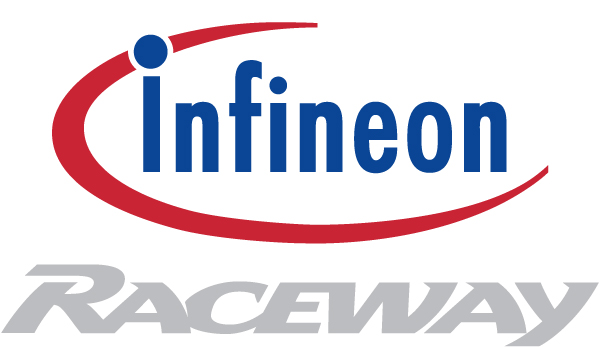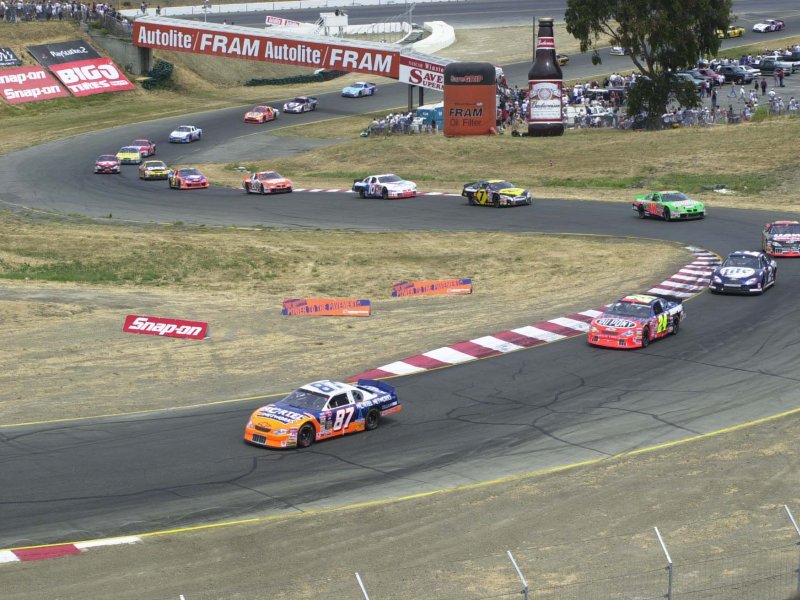 Address:
29305 Arnold Dr.
Sonoma, California 95476


Mailing Address:
Highways 37 & 121
Sonoma, California 95476

Phone Numbers:
(800) 870-RACE

E-mail:
Track & Event Info: [email protected]
Ticket Info: [email protected]


Website:
www.infineonraceway.com/
Track Map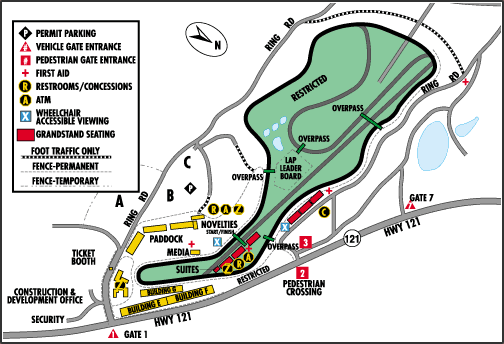 TRACK SPECS
Infineon Raceway owns 1,600 acres in the beautiful Sonoma Valley, 900 of which is used for daily racing activities.

More than nine and a half million cubic yards of dirt were moved on the Infineon Raceway property during the $50-million Modernization Plan from 2000-2002.

The hillside terrace seats at Turns 2-4, 7 and 8a-9 have used a total of 140,000 concrete blocks. At 18-inches long each, that is almost 40 miles of blocks.

Approximately 121,176 gallons of concrete were used to create the 660-foot concrete launch pad on the renovated drag strip.

The renovation of the drag strip required 9,600 hours of manpower.

Ten tons of rebar cable was laid underneath the surface of the drag strip to reinforce the concrete launch pad.



TRACK HISTORY
Courtesy of www.infineonraceway.com


Since 1968, Infineon Raceway has provided the best in motorsports action. From the fender-rubbing action of NASCAR Winston Cup and ground pounding thunder of NHRA Drag Racing to the grassroots SCCA road races and AFM motorcycle events, Infineon Raceway has played host to many of racing's greatest moments and stars.

Racing legends such as Mario Andretti, Al Unser, Dan Gurney, Kenny Roberts, Dale Earnhardt, Shirley Muldowney and Don "The Snake" Prudhomme, as well as modern day stars including Jeff Gordon, Rusty Wallace, Ron Hornaday Jr., Miguel DuHamel and John Force, have all left their indelible marks at this unique and historic facility.

Infineon Raceway is arguably the world's busiest racing facility, with track activity scheduled an average of 340 days a year. It is one of the nation's only high-performance automotive industrial parks.

Under the ownership and vision of Speedway Motorsports Incorporated, Infineon Raceway is poised to reach new heights in facility development and in the quality of events it offers fans. What follows is a brief history of how Infineon Raceway came to be one of North America's most complete and versatile motorsports complex:

In the Beginning Franklin Sears was born in Indiana in 1817. He spent his childhood in Missouri, and in 1844 ventured westward to Oregon. He left home with his friend, Granville Swift, a rifle, mule and $1.50 in his pocket.

After one winter in Oregon, Sears was fed up with the rain and headed south. He volunteered for the U.S.-Mexican war and was named a hero of the Battle of San Pasquale. He spent much of the time in the thick of the battle and was a decorated solider during the war. Following the war in 1851, he married Granville Swift's sister, Margaret, and settled on 600 acres of land south of Sonoma. He built his home of hand-hewn redwood. He was a blacksmith by trade but a large source of his income came from ranching.

Sears eventually partnered with Granville Swift and bought 15,000 acres of land that stretched from Infineon Raceway all the way to what is now Lakeville Highway.

1968 The 2.52-mile road racing course was constructed on 720 acres by Marin County owners Robert Marshall Jr., an attorney from Point Reyes, and land developer Jim Coleman of Kentfield. The two conceived of the idea of a race track while on a hunting trip. Ground was broken in August and paving of the race surface was completed in November. The first official event at Infineon Raceway was an SCCA Enduro, held on December 1, 1968.

1969 The track was sold to Filmways Corp., a Los Angeles-based entertainment company for $4.5 million. From 1969 through early 1970, Infineon Raceway hosted a variety of events, including USAC IndyCar races, NASCAR stock car races, SCCA races, and drag races.

1970 Dan Gurney won a 150-mile USAC IndyCar road race with a field that included Mario Andretti, Mark Donahue and Al Unser. Not long after, the track closed in May and became a tax shelter for Filmways after losses of $300,000 were reported.

1973 Hugh Harn of Belvedere and Parker Archer of Napa arranged to lease the track through Filmways vice president Lee Moselle for $1 million. Bob Bondurant, owner and operator of the Bob Bondurant School of High Performance Driving, announced that he would move his school from Ontario Speedway in Southern California to Infineon Raceway. The Pacific Region of the Sports Club Car of America announced it would hold a driver's school and series of non-spectator races at the track.

1974 Bob Bondurant and partner Bill Benck took over management and control of the leased raceway from Archer and Harn. American Motorcycle Association national motocross races in the hills north of Turn 7 become popular with Bay Area fans, but were phased out by the end of the decade because of rising insurance costs.

1977 Moselle, a lawyer with no racing experience, comes aboard and hires Jack Williams, the 1964 NHRA top fuel drag racing champion, to be his operations chief, and Art Glattke to handle public relations. Moselle was under orders from Filmways to clear spectator restrictions with the county of Sonoma and to build a major-event schedule. A group calling itself Black Mountain Inc., which included Bob Bondurant, William J. Kolb of Del Mar and Howard Meister of Newport Beach, purchased the track from Filmways for a reported $1.5 million. Two months later, in May, Kenny Roberts did wheelies on the final two laps while he waved to a crowd of 20,000 for a runaway victory in the AMA-Sonoma Motorcycle Classic.

1980 The Black Mountain Group took on an additional partner -- the Long Beach Grand Prix Association -- in hopes of improving marketing and public relations.

1981 The Long Beach Grand Prix, headed by Chris Pook, decided to rename the track Golden State International Raceway. The Black Mountain group obtained an injunction to keep Filmways from claiming the property after defaulting on payments. Black Mountain claimed Filmways gave false financial projections when it sold the property in 1979. Bondurant resigned as president of Golden State Raceway in a dispute with Pook over the Long Beach Grand Prix's management plan. Filmways regained ownership of the track and Williams, Rick Betts and John Andersen purchased the track from Filmways at an auction for $800,000.

1983 Ford became a major sponsor at the track. Williams named Dr. Frank N. Scott Jr. of Aptos and Harvey "Skip" Berg of Tiburon as partners.

1985 The track was completely repaved, in part with funds donated from the "Pave the Point" fund raising campaign. It was also in 1985 that the first shop spaces (Buildings A,B,C, and D -- in the main paddock area) were built.

1986 Berg, president of a real estate acquisition and management firm headquartered in Seattle, took control of the track and became major stockholder in Brenda Raceway Corp., which controlled the track until 1996. Berg named Darwin Doll, vice president and general manager of Michigan International Speedway, new track president.

1987 One of the most significant moves in the track's history occurred. Infineon Raceway signed a five-year contract with the National Hot Rod Association for the California Nationals. The first event was held in the summer of 1988. Additional buildings constructed on the property brought shop space to more than 700,000 square feet.

1988 Berg hired Glen Long, an IBM executive, to be the track's new president. Mike Yurick was named general manager. The NHRA nationals were a resounding success, with an estimated 32,000 spectators on hand to watch Joe Amato edge Dick LaHaie in victory by one hundreth of a second margin.

1989 The NASCAR Winston Cup Series debuted at the raceway, with Ricky Rudd taking the inaugural victory.

1991 The Skip Barber Racing School replaced the Bob Bondurant School of High Performance Driving. The NASCAR Winston Cup race drew 70,000 spectators in its second year at the track. The 15-year association with International Motorsports Association (SportsCar) GTP series, was suspended. Steve Page, a marketing executive with the Oakland A's, succeeded Long as track president.

1994 More than $1 million was spent on a beautification project and construction of a 62-foot-high, four-sided electronic lap leader board in the center of the road course. A medical facility and an 18-nozzle Unocal gasoline filling station were constructed.

1995 A major $3 million renovation plan was kicked off that included posh tower VIP suites and a two-story driver's lounge/emergency medical facility. Trans-Am and SportsCar races returned to Infineon Raceway. The NASCAR Craftsman Truck Series is added to the major-events schedule.

1996 The Russell Racing School signs a 10-year contract with Infineon Raceway in February to headquarter its world renowned driving school in Sonoma. The Skip Barber Driving School moves to Laguna Seca. In May of 1996, the NASCAR Winston Cup race drew a record 102,000 spectators -- the largest single-day crowd for a Northern California sports event. Infineon Raceway owner Skip Berg sells the track to O. Bruton Smith, chairman of Speedway Motorsports, Inc. in November of 1996. Speedway Motorsports also owns Atlanta, Bristol, Charlotte, Las Vegas and Texas Motor Speedways in addition to Infineon Raceway.

1997 Kragen signs a contract through the year 2001 to joint sponsor the annual NASCAR Winston Cup event. The event will be renamed the Save Mart/Kragen 350 for the 1998 season.

1998 Major renovations begin at Infineon Raceway with the creation of "The Chute," an 890-foot high-speed stretch that will be used for all NASCAR-sanctioned events. The stretch connects existing Turns 4 and 7 and is officially opened on May 5 by NASCAR star Jeff Gordon. The re-design of the road course shortens the circuit from 2.52 miles to 1.949 miles but increases the Winston Cup race from 74 to 112 laps, provding fans with more action. The Chute will be used for Winston Cup, Winston West, Southwest Series and Craftsman Truck Series events.

In June, NASCAR marks its 10-year anniversary with Infineon Raceway and Vallejo native Gordon comes away for the victory in the Save Mart/Kragen 350 Winston Cup race.

1999 Jeff Gordon joins Rusty Wallace and Ernie Irvan as the only two-time winners at Infineon Raceway when the Vallejo native wins the Save Mart/Kragen 350 NASCAR Winston Cup race in June.

The first-ever running of the American Le Mans Series takes place at Infineon Raceway in July as J.J. Lehto and Steve Soper guide BMW to the Prototype victory. This marks the return of exciting sports car racing to Infineon Raceway as a main event for the first time since 1997. The race is televised live by NBC.

Progressive Insurance signs on as the title sponsor of the AMA Superbike event, which is won by Mat Mladin. The native of Australia would go on to capture his first-ever AMA Superbike championship. His only win of the year would come at Infineon Raceway. NHRA drag racing winners include Doug Kalitta (Top Fuel), Whit Bazemore (Funny Car) and Jim Yates (Pro Stock).

2000 Infineon Raceway gains unanimous approval from the Sonoma County Board of Supervisors by a 5-0 vote to begin work on a $35 million Modernization Plan that will transform the facility into one of the premier motorsports venues in the country. The comprehensive project will take two years to complete and inlcudes 64,000 Hillside Terrace seats, repaving of both the road course and drag strip and increased run-off around the entire track.

Jeff Gordon becomes the first three-time NASCAR Winston Cup winner at Infineon Raceway, taking the Save Mart/Kragen 350.

In other racing news, Allan McNish sets the fastest lap ever recorded at Infineon Raceway since the raceway opened in 1968. McNish, piloting an Audi R8 during the American Le Mans Series Grand Prix of Sonoma, covers a single lap at 112.440 mph. Doug Kalitta joins Gordon as a three-peat winner, claiming his third consecutive Top Fuel title at the Fram Autolite Nationals NHRA event.

2001 The 2001 season kicked off with the completion of the first phase of Infineon Raceway's $35 million Modernization Plan. The first phase of the project, which began in September, featured the completion of hillside terrace seats in Turns 2-4, a new entrance at Gate 7, the construction of two ring roads for shuttle and fan traffic, 40 permanent garages and increased run-off on the road course, among others.

The 10-turn road course used for the NASCAR Dodge/Save Mart 350 featured a modified Chute lengthened by over 300 feet to include a straightaway between Turns 4 and 4a and the creation of a pure straightaway between Turns 4a and 7. Turn 7 boasts a 90-degree right-hand turn with 120 feet of runoff room for safety and creates a new passing zone on the track.

The new Turn 7 proved crucial in the 2001 Dodge/Save Mart 350, with Tony Stewart making the race winning pass in this turn as Robby Gordon and Kevin Harvick battled for position. Stewart took the checkered flag after 112 laps, robbing Jeff Gordon of his fourth consecutive win at Infineon Raceway.

The NHRA FRAM Autolite Nationals offered more than just exciting racing action in 2001. After Kenny Bernstein, Del Worsham and Tom Martino claimed their titles, John Force and Gary Scelzi boarded Caterpillar bulldozers to begin destruction of the drag strip and signify the beginning the of second phase of the Modernization Plan. Phase Two of the plan focuses on fan and driver amenities, including more terraces seats, repaving of the drag strip and road course surfaces and the construction of a new permanent grandstand at the start/finish line of the road course. The Plan is scheduled to be completed for the 2002 season.

2002 The 2002 racing season was a time of major change at the Sonoma raceway. In June, track officials announced that the facility had been renamed Infineon Raceway as part of a 10-year strategic partnership with Infineon Technologies, one of the world's top semiconductor manufacturing companies. Infineon Raceway became just the second motor racing facility in the country to secure a major naming rights deal.

The 2002 racing season also saw the near-completion of the facility's two-year, $50 million Modernization Plan. This renovation touched nearly every area of the property and includes the addition of many fan and racer amenities. Changes to the facility include: a new permanent grandstand at start/finish of the road course; hillside terrace seating at Turns 7-9; a completely refurbished drag strip complete with 660-foot concrete launch pad; expanded paddock area; and the new Infineon Raceway Karting Center.

Infineon Raceway also hosted its full-slate of annual events, including the Dodge/Save Mart 350 NASCAR Winston Cup event and NHRA FRAM Autolite Nationals, with the addition of the inaugural NHRA Summit Sport Compact Drag Racing Series event. The new drag strip surface proved fruitful at the NHRA event, with track records reset in three classes and Pro Stock Motorcycle rider, Angelle Savoie, posting the second quickest time in history.




SPRINT CUP INFINEON RACEWAY WINNERS 1996-2010
06/20/10

Toyota/Save Mart 350
Kasey Kahne
Jimmie Johnson
2
Chevrolet
06/21/09

Toyota/Save Mart 350
Brian Vickers
Kasey Kahne
5
Dodge
06/22/08

Toyota/Save Mart 350
Kasey Kahne
Kyle Busch
32
Toyota
06/24/07

Toyota/Save Mart 350
Jamie McMurray
Juan Montoya
32
Dodge
06/25/06

Dodge/Save Mart 350
Kurt Busch
Jeff Gordon
11
Chevrolet
06/26/05

Dodge/Save Mart 350
Jeff Gordon
Tony Stewart
7
Chevrolet
06/27/04

Dodge/Save Mart 350
Jeff Gordon
Jeff Gordon
1
Chevrolet
06/22/03

Dodge/Save Mart 350
Boris Said
Robby Gordon
2
Chevrolet
06/23/02

Dodge/Save Mart 350
Tony Stewart
Ricky Rudd
7
Ford
06/24/01

Dodge/Save Mart 350
Jeff Gordon
Tony Stewart
3
Pontiac
06/25/00

Save Mart/Kragen 350K
Rusty Wallace
Jeff Gordon
5
Chevrolet
06/27/99

Save Mart/Kragen 350
Jeff Gordon
Jeff Gordon
1
Chevrolet
06/28/98

Save Mart/Kragen 350
Jeff Gordon
Jeff Gordon
1
Chevrolet
05/04/97

Save Mart 300
Mark Martin
Mark Martin
1
Ford
05/05/96

Save Mart 300
Terry Labonte
Rusty Wallace
7
Ford
TRACK RECORDS
Sprint Cup Race Record
Ricky Rudd 81.007 06|23|02

Truck Race Record
Boris Said 72.939 10|11|98



Sprint Cup Qualifying Record
Jeff Gordon 94.335 2005

Truck Qualifying Record
Tom Hubert 97.395 1998



2010 Toyota/Save Mart 350 winner
Jimmie Johnson